1

100% First Deposit Bonus

Generous welcome bonus
Legally operating in Kenya
Mobile casino app for Android
A large number of sports to bet on

Read Bangbet Review

2

Welcome bonus of KSH 1,000

Visually pleasing sportsbook site
Regularly updated blog
Excellent mobile betting app
Officially licensed and regulated

Read Sportpesa Review

3

100% Welcome bonus up to 35,000 KSH

24/7 customer support
Wide range of games and sports betting options
Secure and reliable banking options
Available applications for Android and iOS devices

Read Betika Review

4

70,000 KSH max deposit

Low minimum stake amount
Available in other countries
Easy user interface
24/7 customer care

Read Betpawa Review

5

KSH 30 No Deposit Bonus

Low minimum deposit
Accepts local currency
Wide range of markets for betting
Low wagering requirements on bonuses

Read Odibets Review

6

Welcome Bonus Up To 15000 KES

Fastest live betting in Kenya
100% deposit bonus up to 12000 KES
Works with almost all payment operators
They have the highest stake limit

Read 22bet Review

7

500% First Deposit Bonus

200% of the 1 deposit amount
Huge collection of games
24/7 customer support
Apps for iOS and Android devices

Read 1win Review

8

100% Bonus up to 15000 KES

Minimum deposit 1 KES
Big Welcome Bonus
40+ Sports
100's of Betting Markets

Read Betwinner Review

9

First deposit bonus 100% up to 13,000 KSh

Minimum deposit 125 KES
Large Sportsbook
Mobile App for iOS and Android users
Secure payment options

Read Paripesa Review

10

Welcome Bonus up to 250%

100% First Deposit Boost
Extensive array of eSports betting markets
Professional customer support team
Lots of bonuses and promotional offers

Read GGbet Review
For both new and existing betting enthusiasts, sports betting provides a plethora of opportunities. Throughout the year, many fans engage in online betting on various sporting events, using their extensive knowledge of sports. In this comprehensive guide, we highlight the essential markets and popular features that are particularly appealing to Kenyan punters.
Are Betting Sites Legal in Kenya?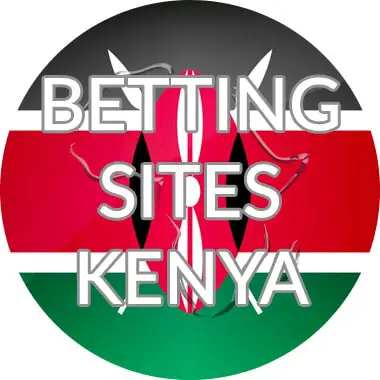 Betting sites in Kenya are considered legal when they possess licenses issued by the Betting Control and Licensing Board (BCLB), which serves as the primary regulatory authority for such sites. To ensure legality and safety, it is advisable to check for a betting site's BCLB license information towards the bottom of its home page. It is recommended to avoid sites that lack this license, as licensed bookmakers are the most secure options for betting in Kenya.
Safest Betting Sites
In Kenya, the betting industry is flourishing rapidly, making it one of the world's fastest-growing markets. Consequently, there is a plethora of betting sites operating within the country. Our purpose is to assist you in locating secure and lawful Kenya betting sites that offer an exceptional betting experience. Rest assured, all the sites we suggest in Kenya are licensed, secure, and compliant with the law. To simplify your decision-making process, we have carefully curated a list of the top three best Kenya betting sites!
Ultimate Guide To Betting Sites in Kenya
Online betting sites offer a highly enjoyable and potentially lucrative pastime. Nevertheless, the quality of your online betting experience will greatly depend on the specific site you decide to join. Each betting site in Kenya possesses its own unique strengths and weaknesses. This article aims to provide you with an overview of the finest betting sites in Kenya, along with the diverse options and features they present, ensuring that you have the most exceptional betting experience possible. Furthermore, we will delve into the legality of betting in Kenya and share information on the country's authorized Kenya betting sites. Rest assured, we exclusively endorse legal and currently operational betting sites in Kenya on this platform.
How We Rank Betting Sites in Kenya
If you're curious about our selection process for the top betting sites in Kenya's competitive market, let us enlighten you! Our team of experts conducted extensive research to compile a list of the best betting sites. We meticulously analyzed these Kenyan platforms using various crucial factors for decision making, which we will elaborate on below.
User Experience
Our goal is for you to have a delightful experience when using a recommended betting site in Kenya. As soon as you enter the site, we want you to feel at ease and find everything you need effortlessly. You should be able to navigate through the pages and access all desired features without any complications. Sites that are overly crowded and make it challenging for users to locate menu options and navigate will not be ranked highly in Kenya.
Top 3 betting sites on Kenya
SPORTPESA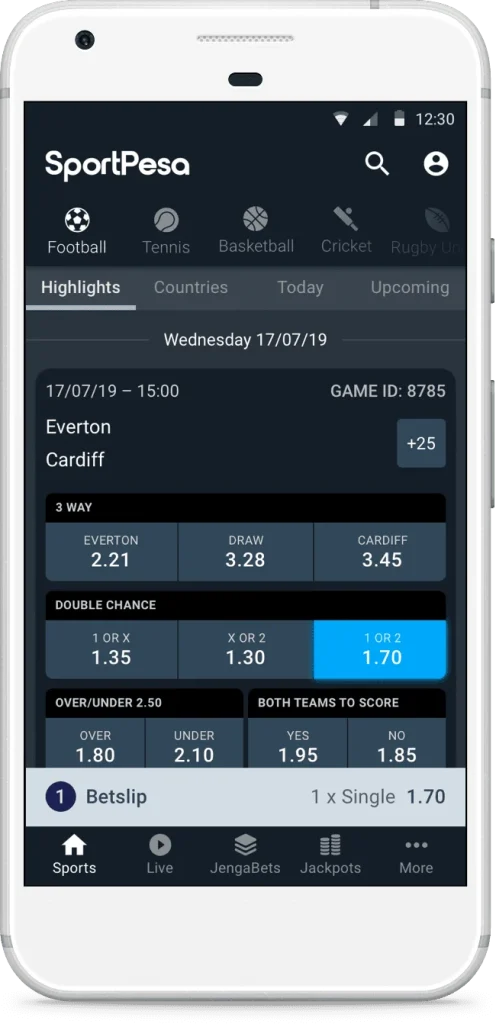 SportPesa, a renowned online gambling platform, focuses on sports betting and casinos, offering players a plethora of advantages that make it highly appealing. Allow me to highlight a few of these enticing features:
Variety of sports events
Convenience and availability
Attractive bonuses and offers
High level of security
Live broadcasts and statistics
There are numerous benefits to choosing SportPesa as it offers a compelling option for individuals interested in sports betting and gaming entertainment.
BETPAWA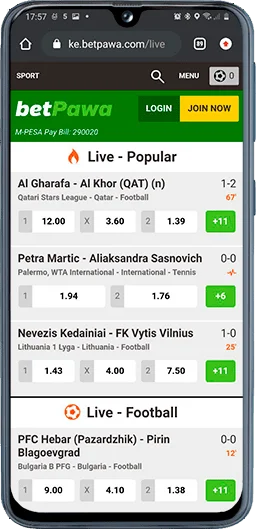 Betpawa is a highly sought-after online gaming platform, boasting an extensive array of sports betting Kenya and casino gaming choices. This betting service has garnered immense popularity among players, owing to various compelling advantages it offers. Here are a few noteworthy ones:
There is a broad range of sports events to choose from.
Bonuses and promotions
Easy payment and withdrawal
Simple bidding process
Capability to engage in "Live" mode
Attractive coefficients
The capability to engage in gameplay using multiple languages.
If you are intrigued by the idea of betting on sports and other games of chance, BETPAWA could be an appealing choice.
3. ODIBETS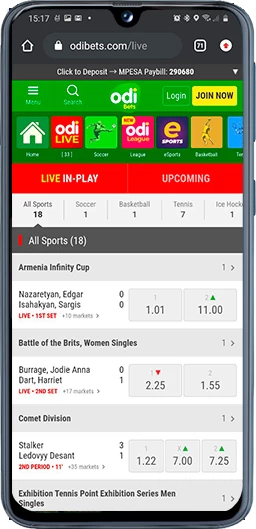 Odibet has become widely renowned as a leading bookmaker in Kenya and various other African nations. The betting company has garnered significant popularity among players, thanks to its multitude of customer benefits.
There is a diverse range of sports events available.
Bonuses and promotions
Easy payment and withdrawal
High level of security
Flexibility to play at any given time
Convenient money withdrawal system
Players should exercise caution and only participate in Odibets' money games if they can afford to do so responsibly.
Payment Options
The payment options available on a betting site hold great significance for both the site and its users. Without the ability to make deposits, using a betting site would be pointless. Users would be unable to place bets, resulting in the betting site not generating any revenue. It is not only crucial to be able to make deposits, but also to do so effortlessly. In Kenya, the most popular deposit method is M-Pesa, which is widely used for various bill payments including electricity, water, shopping, and, of course, betting. Any betting site operating in Kenya without M-Pesa is ill-prepared for business. While M-Pesa is the primary payment method, other options such as Airtel Money, e-wallets, and card deposits are also available. A comprehensive range of payment options should be offered by a betting site in order to provide users with the flexibility to switch between methods in case of any issues.

Welcome Bonus
We all appreciate receiving free gifts and bonuses, right? In Kenya's betting sites, there are plenty of bonuses available. One crucial aspect we consider when ranking these sites is the quality of the welcome bonus they offer. While some bonuses may appear enticing on the surface, they may not live up to their promises. Betting sites understand our love for bonuses and attempt to attract customers by offering seemingly irresistible amounts. Unfortunately, some of these offers come with strict terms and conditions, making them nearly impossible to redeem. Our responsibility in Kenya is to thoroughly examine these bonus offers and select the very best ones for you. We assess bonuses based on factors such as wagering requirements, validity period, and bonus size.
Mobile Experience
Nowadays, there is a decline in the number of individuals who place bets using large laptops or desktops. The landscape has transformed, and the entire world has shifted towards mobile devices. Consequently, it is crucial for a betting platform to prioritize mobile compatibility. Whether it is through their mobile application or mobile website, bookmakers must ensure that betting on mobile devices is effortless and convenient for their customers. The mobile site should possess user-friendly and easily navigable features, while also encompassing all the functionalities found on the main site.
Sportsbook
Although football is the most popular sport to bet on in Kenya, we also place bets on various other sports such as tennis, cricket, and athletics. Therefore, it is crucial for a betting site to offer a wide selection of sports. Additionally, the bookmaker should provide a diverse range of betting options for each sport. While football may be the primary focus for Kenyan players, it is important not to overlook other sports.
Betting Odds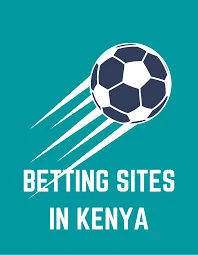 Although betting odds may appear similar across various betting sites, they actually vary to some extent. This divergence becomes particularly significant when engaging in long ticket plays or wagering substantial amounts. Therefore, to maximize your betting outcomes, it is advisable to choose a platform offering higher betting odds.
Customer Support
Reaching out to your betting site should pose no difficulties whatsoever. You should expect prompt responses to your inquiries within minutes, as it can be frustrating when urgent queries go unanswered. It is essential for a betting site to offer various customer support channels and ensure a swift response time. Moreover, the customer service team should possess extensive knowledge about the site.
How To Bet On a Betting Site in Kenya
If you've been hearing a lot about online sports betting sites Kenya and are eager to start your own journey, look no further because you're in the right place.
Sign Up on a betting site in Kenya
Signing up on a betting site is a straightforward process, especially if the site is as user-friendly as betway Kenya. With numerous betting sites in Kenya, it can be confusing to choose the best one. However, we are here to assist you. We only endorse the top betting site options, ensuring they are secure, legal, trusted, and of high quality. To register, simply choose your preferred betting site on this page and click any of the sign-up buttons. Fill out and submit the form, and you will soon have your very own betting account. It really is as easy as that!
Make a Deposit
After successfully creating an account with a betting site in Kenya, the subsequent stage in your betting venture involves depositing funds into your newly established account. In Kenya, you have convenient options to make deposits on betting sites through mobile money networks like M-Pesa and Airtel Money. Additionally, certain betting platforms accept payments through card deposits and e-wallets such as Neteller and Skrill.
Claim Your Welcome Bonus
You're so close! Once you've made your deposits, you'll be ready to make your first bet. However, don't forget to claim your welcome bonus before that. The welcome bonus is a sum of free money you receive upon signing up on a betting site in Kenya.
Start Placing Bets
With funds deposited into your account and the added bonus providing a safety net, you are now ready to proceed with your initial wager. Simply visit the sportsbook section of your chosen betting website and make your desired selections. After choosing the games, input the amount you wish to stake on the betslip and finalize your bets. If your selections prove correct, your winnings will be credited to your account. From there, you have the freedom to withdraw your earnings and utilize them for any purpose you desire!
What do you need to Open an Account and Register in Kenya?
Signing up for a betting account in Kenya has seen a significant rise in popularity. The process is quite simple, as the first step involves selecting the preferred betting operator.
| | |
| --- | --- |
| Legal Age | In terms of special requirements, there are a few things you need to have to open a betting account in Kenya. Firstly, you must be over 18 and possess a valid ID or passport. |
| Documents | Additionally, you may be required to provide proof of residence, such as a utility bill or bank statement. Moreover, in many cases, you will need a valid phone number. These requirements are in place to ensure that only legitimate individuals are able to bet and that the betting operators comply with the relevant regulations. |
| Time | Additionally, the time it takes to create a betting account can vary depending on your chosen operator. Generally, the process should take no longer than 5-10 minutes, and some operators may offer a more streamlined registration process than others. |
What Do You Need To Know About Payments in Kenya?
Kenya has become a prominent African market for online sports betting, leading Kenyan bookmakers to prioritize a diverse range of payment methods to meet the demands of their customers.
M-PESA, Airtel Money, and bank transfers are the preferred payment options for Kenyan bookmakers.
M-PESA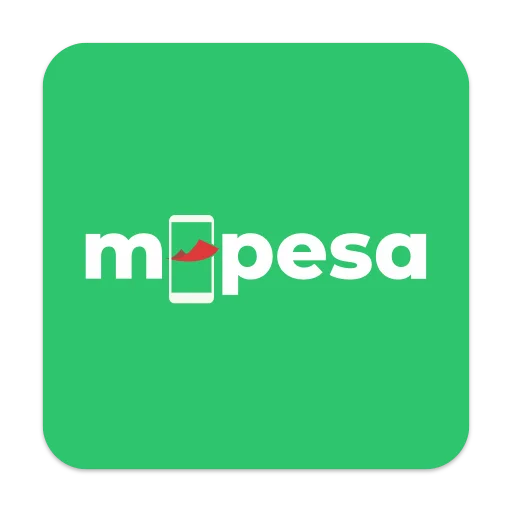 Safaricom, Kenya's leading mobile service provider, offers M-PESA, the most widely used payment method in the country, including for sports betting.
There is no match to the unmatched convenience of M-PESA, which enables users to deposit or withdraw money from their betting accounts anytime and anywhere across the country.
AIRTEL MONEY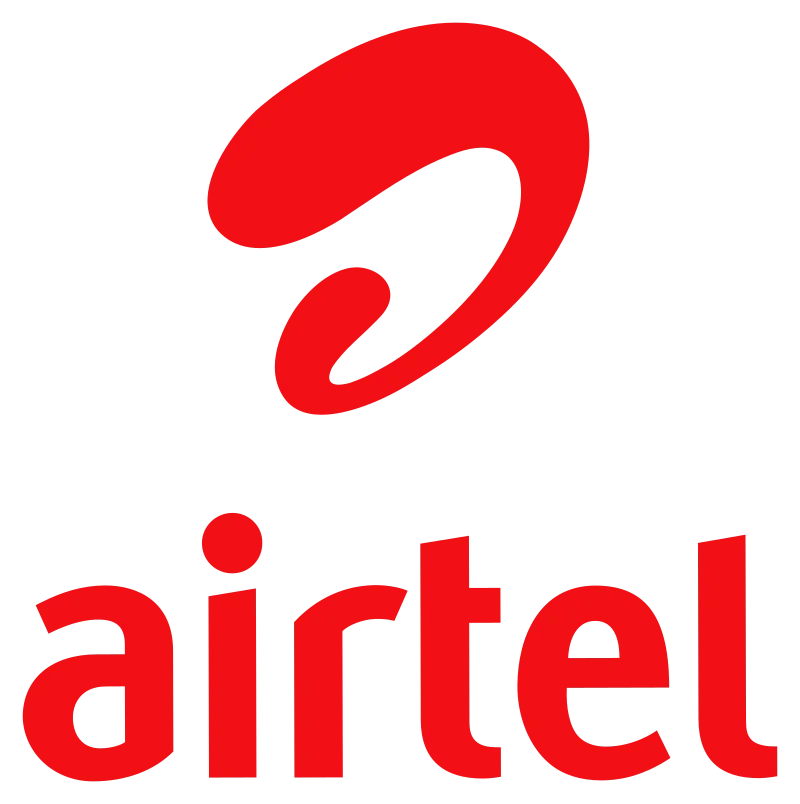 Airtel Money, a well-liked mobile money transfer service, is widely used by sports bettors in Kenya. This service is provided by Airtel, a leading mobile service provider in the country.
Airtel Money, similar to M-PESA, offers users a convenient method to deposit or withdraw funds from their betting accounts.
BANK TRANSFERS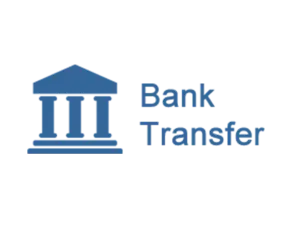 Kenyan sports bettors often opt for bank transfers as a favored payment choice. This is particularly popular among individuals who lack access to mobile money transfer services or have a preference for conventional banking methods.
On the other hand, mobile money transfers are usually processed faster than bank transfers.
Betting Sites With Best Custumer Support
Having reliable customer support is crucial for online sports betting. Regardless of your experience level, you will probably have inquiries or issues at some point during your betting journey. Whether you need assistance with deposit methods, promotions, or delayed payouts, it is essential to select a betting site that offers excellent customer service. These platforms typically provide multiple channels for support, such as phone, email, live chat, and social media platforms like Facebook, Twitter, and WhatsApp.
FAQ
1️⃣ Is it safe to do online betting?
Choosing reputable online betting platforms ensures a completely secure experience. However, as betting involves a certain level of risk, it is crucial for bettors to recognize their limits and exercise restraint to avoid significant losses.
2️⃣ Is There Customer Support Available?
Certainly. A trustworthy online bookmaker will provide customer support through various channels, such as live chat, telephone, or email.
3️⃣ Can I Bet From My Mobile?
Certainly! Nowadays, the majority of betting platforms allow users to conveniently place bets using their mobile devices, enabling them to partake in the excitement from virtually any location.